Framework of Sustainability
Our guide to inclusive and consistent progress.
Our decades of experience in manufacturing specialty oils and fats from indigenous plants has led us to develop a comprehensive model to guide us in our constant efforts to remain relevant and sustainable. We call it our Framework of Sustainability, which encompasses the foundational structure of our sustainability initiatives and how we make it the core aspect of everything we do.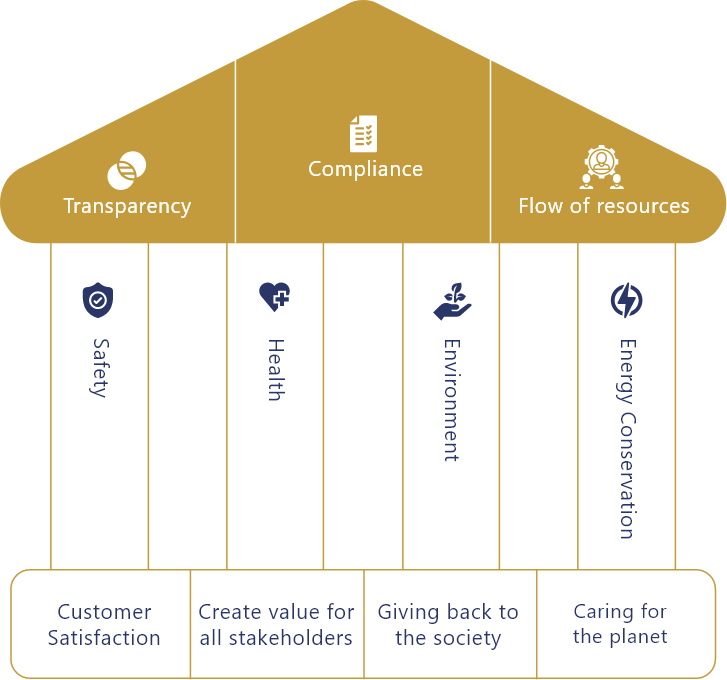 The Foundation - Social Accountability
Social accountability forms the foundation of our Framework of Sustainability. It is the guiding principle that keeps us moving forward in a manner that benefits all. Social accountability entails four key promises - customer satisfaction, value creation for all stakeholders, giving back to the society and caring for the planet.
The Four Poles
Safety, health, environment and energy conservation are The Four Poles in our Framework of Sustainability, which help us in our mission to ensure that each of the promises that form The Foundation is fulfilled. We uphold the four pillars through stringent processes that warrant and promote safety, health, environment-friendly and energy conservation initiatives among all our stakeholders.
The Roof - Quality Control
Quality Control forms the roof of our Framework of Sustainability, which ensures that efficient systems and processes are in place to enable a highly streamlined and effective work ethic. Transparency, compliance with recognized regulatory standards, and unhindered flow of resources form the key elements of our roof.