Enabling indigenous
communities
Shea is a very sustainable crop and doesn't require the use of pesticides or fertilizers. It grows wildly in an area known as the Shea belt across Western Africa, including Ghana, Nigeria and Ivory Coast, and is a major source of income for the communities that live in the area. Traditionally, the local women earn their livelihoods by collecting the Shea fruit and processing the kernels it contains.
Manorama coordinates, enables and enhances the purchase of Shea kernels from local woman cooperatives, self-help groups and local village groups. We consolidate the purchase at weekly rural markets and supervise the activities of collectors to ensure sustainability. Our relationship with them is grounded on trust and reliability, which allows the networks to amicably and efficiently manage the transactions.
| Program | Impact | Sustainable development goal |
| --- | --- | --- |
| Environment Management | | |
| Development of Shea Nursery and New Plantation in Ghana, Burkina Faso, Benin with GSA | 1000 Plants | |
| Energy efficient equipment for seed processing like stove and electric bulb and others. | 100 Nos | |
| Health & Education | | |
| Training on Shea processing and Savanna parkland management for women groups to increase knowledge, improve the quality of the nuts, and yield. | 100 Meetings | |
| Financial support for improvement of children education | $ 45000 | |
| Socio - Economic Development | | |
| We provide new business opportunity around 35000 40000 Metric Tons of more Shea. | 1000 of women get extra opportunity. | |
| We give premium to direct women suppliers | Around 1000 women | |
Committed to diversity and inclusion
We are signatories of the UN Global Compact, committed to integrate and promote the Women Empowerment Principles (WEPs) established by the United Nations Global Compact and the United Nations Women. The Women's Empowerment Principles are a set of 7 principles for businesses, offering guidance on how to empower women in the workplace, marketplace and community.
Leadership
Promotes
Gender Equality
Equal Opportunities
Inclusion And Non-
Discrimination
Heath, Safety And
Freedom From
Violence
Education And
Training
Enterprise
Development,
Supply Chain And
Marketing Practices
Community
Leadership And
Engagement
Transparency,
Measuring And
Reporting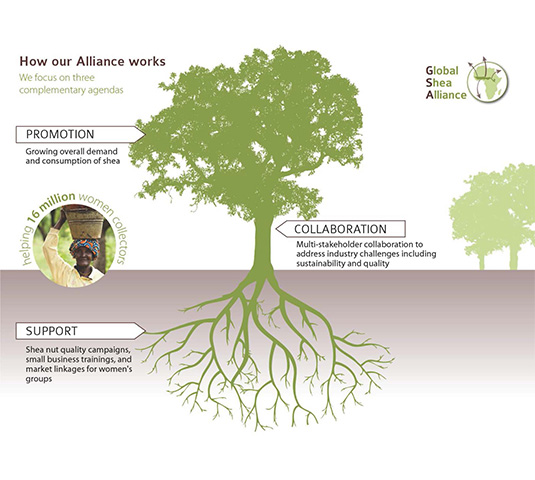 Driven by purpose
Manorama is an active member of the Sustainability Working Group (SWG) of the Global Shea Alliance (GSA). The GSA is a non-profit association with 500+ members from 35 countries, committed to promoting industry sustainability, quality practices and standards, and the demand for shea in food and cosmetics. Being actively involved with the SWG, we're committed to promote sustainable practices in the Shea industry focussing on women empowerment, decent working conditions, development of local communities and the protection of ecosystems.